National Guard Bonus Repayment Assistance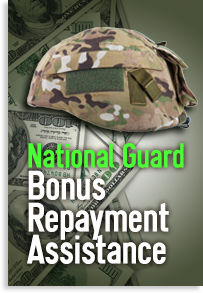 I am disappointed in the actions resulting in a number of our California Guard families being asked to repay bonuses that were accepted in good faith. As a member of the Assembly Veterans Affairs Committee, I am closely following the current situation.  As you may know, the collection is being done by the federal government and only an act of Congress can prevent these recoupment efforts.
That is why; I and the rest of the Joint Committees on Veteran's Affairs sent a letter to the California Congressional Delegation asking them to take appropriate and expeditious steps to waive the requirement that current and former Guard members, who acted in good faith, repay those moneys.
In an additional letter, I reiterated our request to waive the debt for those Soldiers and asked Congress to restore these incentives, clarify tax implications to protect these Soldiers, and consider compensating these Soldiers and families who have incurred damages as a result of recoupment actions taken by the federal government.
---
California Veteran's Committees Letter to Congress Regarding National Guard Bonuses